Have you ever dreamed about escaping the hustle and bustle of city life and investing in a serene beachfront haven? If so, Panama offers breathtaking beauty, a vibrant community, and an array of enticing real estate opportunities waiting for you to explore. Today, we're going to whisk you away to Gorgona, a small beach community, and introduce you to two incredible investment options. Sit back, and let us guide you through the unique lifestyle that Panama offers.

Located about 60-90 minutes from Panama City, Gorgona offers the perfect blend of beach life and accessibility. With a new highway under construction, travel time from Panama City to Gorgona is expected to be trimmed down to about 45 minutes, bringing the city closer to your doorstep.
Gorgona, nestled just before Coronado, Panama, is an escape route for many from the daily grind of Panama City. The exciting news is that, at DoPanama Real Estate and Relocation, we are here to guide you through this life-changing investment journey in Panama.
Our COO and Lead Relocation Specialist, Austin Hess, is committed to protecting foreign investors like yourself who are looking to retire, relocate, or invest in Panama. Our in-house real estate team and our affiliate realtors across the country have been selected meticulously to offer you the most comprehensive selection of options available in Panama.
At DoPanama, we understand that relocation is more than just a real estate transaction. We're here to help with the relocation of your pets, furniture, and vehicles. Moreover, we connect you with doctors, schools, and even help with home remodels or complete build-outs by introducing you to the right builders. All our professionals are at the top of their field, ensuring your journey to your new home in Panama is seamless and worry-free.
Gorgona is a place to savor. Stroll down to the beach to pick up your daily dose of fresh seafood, enjoy the panoramic views of the ocean, and gaze east to the awe-inspiring mountain range. The community spirit in Gorgona is palpable, characterized by cool vibes and welcoming residents.
Moreover, living in Gorgona doesn't mean isolation from urban amenities. A 15-20 minutes drive takes you to Coronado where you'll find grocery stores, cafes, restaurants, hair salons, shopping outlets, and even English-speaking cinemas.
Panama enjoys a tropical climate with two seasons: the dry season (January to April), characterized by breezy days and minimal rainfall, and the green season (May to December) when afternoon rains bring a refreshing touch to the surroundings. The temperature stays pleasantly around 80-90 degrees all year long, so say goodbye to cold winters!
Let's dive into the investment options. The first is a six-plex property, Punta Malibu, fully prepared for business with its own website, Airbnb, Booking.com listings, and a thriving local market presence through an Instagram page with over 50,000 followers. Listed at 2.5 million dollars, this property is constructed on two lots and offers a flexible buying option based on your budget. The six-plex generates an impressive annual revenue of $90,000 to $121,000, with bank statements provided to validate these figures.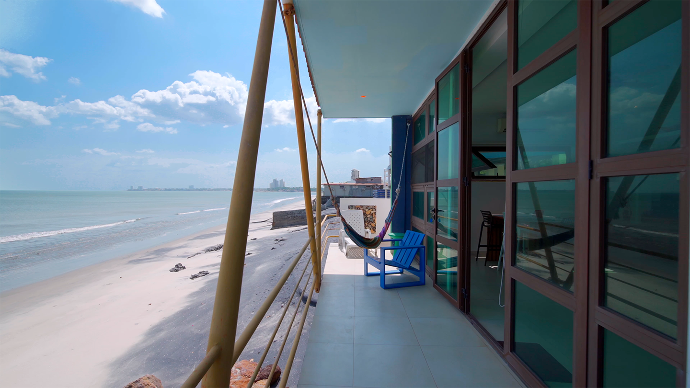 Punta Malibu, Gorgona: Six-Plex
Offered at $2.5 million, the exquisite Punta Malibu is a six-plex paradise nestled in the serene beach community of Gorgona. It boasts an exceptional combination of four 2-bedroom units and two 1-bedroom units, offering flexibility and the potential for a rewarding return on investment.
Price: $2.5 million (with flexible options)
Includes: Four 2-bedroom units and two 1-bedroom units, fully operational for rentals.
Revenue: Generates $90,000 to $121,000 annually.
Extras: Comes with a well-established website, Airbnb and Booking.com listings, and an Instagram page with 50,000 followers.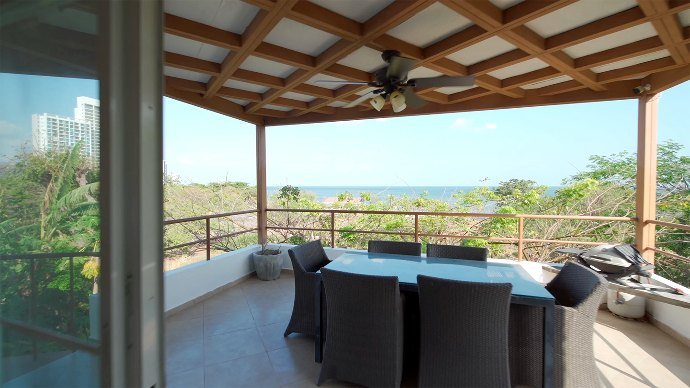 Beachfront Retreat, Gorgona: Three-Plex
Listed at an affordable $375,000, this three-plex beachfront retreat in Gorgona is the perfect investment for those looking to merge living and investment income. The property consists of six bedrooms, four kitchens, and four bathrooms. It's an ideal choice for a live-in property owner interested in generating income from Airbnb or long-term rentals.
Price: $375,000.
Includes: Six bedrooms, four kitchens, and four bathrooms, ideal for live-in property owners interested in rental income.
Extras: Comes fully furnished, includes a pool, and enjoys low monthly maintenance fees.
Show Me The Property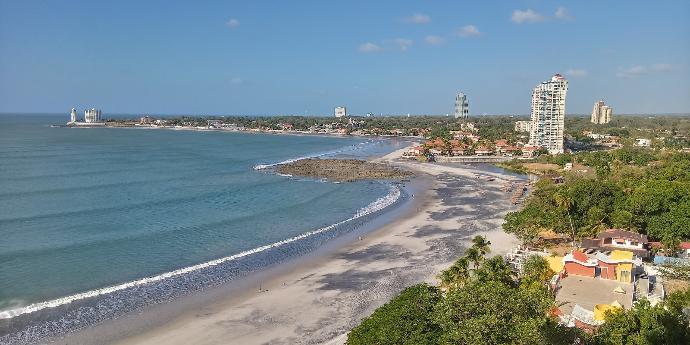 Explore these fantastic properties today!

Interested in these unique investment opportunities? Don't wait! Visit our property listings page now and explore more about Punta Malibu and Beachfront Retreat. Discover the convenience, beauty, and potential of living in Gorgona, Panama. Your new lifestyle awaits!

Check out the properties now 
The second option is a more modest three-plex property priced at only $375,000. This property, offering six bedrooms, four kitchens, and four bathrooms, is an excellent choice if you're looking for a home that also generates income through Airbnb or long-term rentals.
To facilitate a smooth transition, we recommend visiting our website, DoPanama.com, where you'll find a "Where Should I Live in Panama" questionnaire. This survey helps us understand your preferences and lifestyle requirements, providing us valuable insights to assist you better. This is followed by a complimentary 30-minute Zoom call with our team, where we discuss your questionnaire responses and provide you with the most relevant information to help with your relocation.
Book your COMPLIMENTARY 30-minute consultation today.
When considering relocation or retirement, choosing the best real estate and relocation company is paramount. At DoPanama, we take pride in helping individuals find their path in Panama. Our extensive network of affiliate realtors across the country and dedicated in-house real estate team ensure a seamless relocation experience.
Whether you are at the early stages of considering Panama as a new home, or you are ready to dive into the thrilling process of investing in a property here, we are excited to help. With our extensive experience and deep local knowledge, we can turn your dreams of a Panama relocation into reality.
Our journey today through Gorgona, Panama, is just the beginning. The beauty of Panama extends far beyond what we've explored. We hope you enjoyed this excursion and feel as excited about Panama as we are.
Remember, sharing is caring! So, if you found this article informative and engaging, feel free to share it with your community. Our team is eager to meet you and introduce you to the wonders of Panama. Until then, happy planning, and we hope to see you soon in Panama!
Take The Where Should I Live Survey!