Sansara is world-class yoga and surf resort located at the end of the road in a small village where the jungle meets the sea in Los Santos, Panama.
Sansara is a special place where people can reach their potential, motivated by what surrounds them. Vibrant, lush-green foliage from the tropical rainforest provides a perfect canopy to experience paradise. The holistic beachfront resort features a small collection of private, oceanfront suites and garden cabanas, a world-class surf school and a spacious, open-air yoga Shala nestled in greenery. One can almost smell the rich, wet earth, salt-filled air, and boost of pure oxygen generated from all the trees and shrubs in this tropical oasis. A saltwater pool and onsite spa complete the perfect surroundings.
Sansara's 13 luxurious and private oceanfront cabanas have been designed to blend seamlessly with the natural surroundings of the resort grounds. The thoughtful fusion of traditional design with tropical elements promises to provide an inspiring and intimate experience. Featuring stunning views, all cabanas are equipped with a private patio and are just steps away from the warm and inviting waters of the Pacific Ocean. Amenities such as hot water, air conditioning, and organic bath products are available in all cabanas.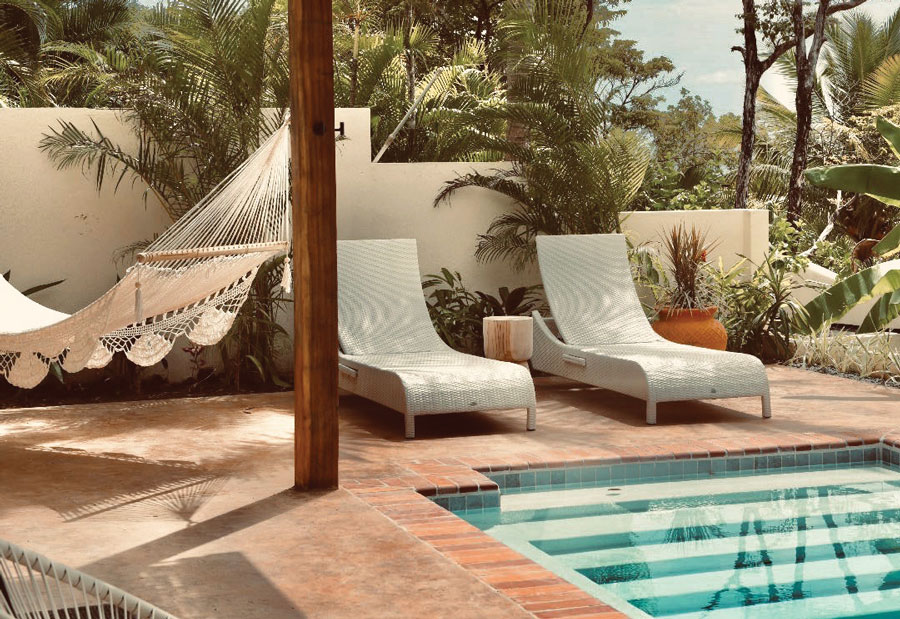 While some guests are tentatively standing on their boards in the morning surf at dawn, lit by an amber glow as they experience the sheer exhilaration of catching their first wave, others are in contemplative poses, finding a meditative calm with their sun salutations and downward facing dogs. The atmosphere is supportive and relaxed.
At mealtimes, you can almost always count on finding guests sharing laughs over exquisitely prepared local cuisine at a long, well-appointed wooden table. The Buddha Bar offers guests daily breakfast, lunch, and dinner, utilizing local fish, farm-raised poultry, seasonal fruits and vegetables, and even home-baked bread. Custom crafted cocktails with fresh, house-made juices, infusions and aromatics are the perfect accompaniment to take in the unforgettable sunsets from the open-air bar and lounge.
Today, Sansara Resort is rated as one of the best wellness hotels on the globe by Condé Nast Traveller.