Our Cerrito Tropical Eco Lodge was born of a stimulating conversation about our lush natural location. Picture a garden oasis perched on a steep hillside, backed by tropical forest and facing the ocean. The city skyline just 9 miles away.
That first conversation led us to create a place where guests are welcomed like family. Cerrito Tropical has grown to include an international family that extends around the world, we welcome returning and new visitors daily who come to unwind, enjoy the natural activities on Taboga Island, awaken to birdsong in our garden, be lulled to sleep by pure forest and ocean air.
It all began with an adventure to Panama 19 years ago and a visit to Taboga in search of a location to build a boutique hotel with vacation suites. We discovered a hidden gem on the hillside, moved some boulders, and built our dream. With 10 rooms the business continues to grow. During the pandemic, we used the downtime to construct new areas: an ocean view plunge pool and natural teak deck for relaxation, yoga, massage, or sunrise meditation. Our garden has also flourished and includes fruit plus local medicinal and culinary herbs for custom herbal teas.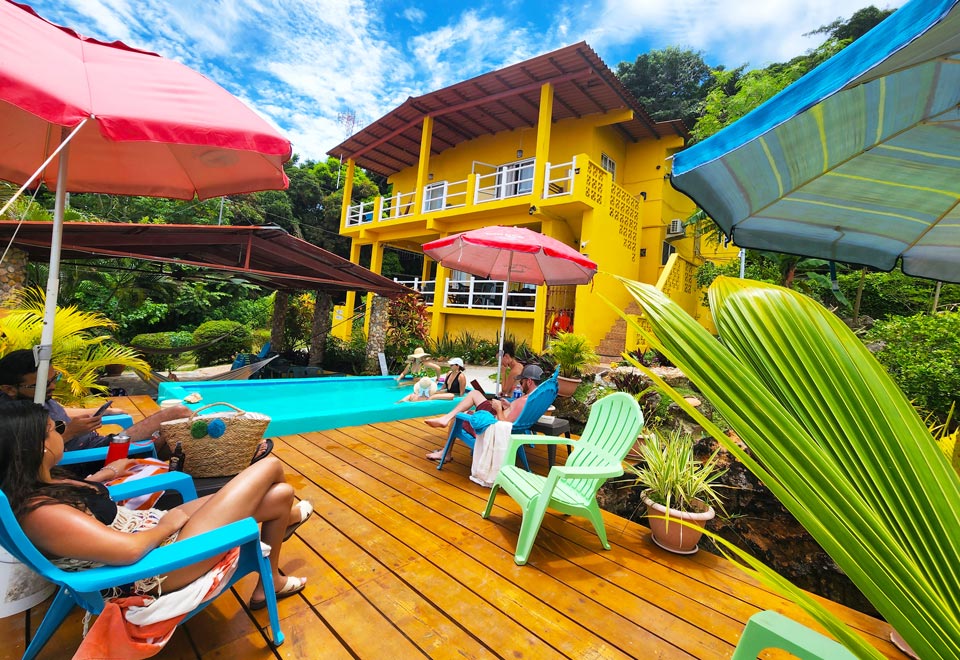 Sustainable tourism is a priority and we've forged relationships with locals who provide several tour activities. Water-based tours include whale watching in season, boat trips, snorkeling, kayaking, and fishing. In addition, we designed self-guided hiking/walking tours (to the mountain or private beaches) and for birders, a list of some 130 species spotted on Taboga.
Sharing local culinary culture, our Calaloo Beach Restaurant is the #1 spot to taste sustainably caught fresh fish, delicious seafood, vegetarian dishes and international favorites plus artisanal cocktails. Calaloo is also known for its history wall with photos celebrating the 500 years of Taboga's history.
That rousing conversation started so long ago has grown into the success story of two award-winning small businesses: our boutique eco-lodge and beachside restaurant. Guests unwind enjoying the tropical nature and lifestyle that only Cerrito Tropical can offer on Taboga Island.