Azul Paradise brings you the best of both worlds in Bocas del Toro: a unique castaway experience on a secluded beach and pure luxury right in the bustling heart of Bocas Town.
Azul Paradise has two boutique hotel properties, one on Isla Colon and the other on Isla Bastimentos. The two properties make Azul Paradise the ideal spot to plan your adventure package in Bocas del Toro.
Azul Paradise Resort, a private beach resort, is a collection of charming water villas where you can disconnect from the world. Each villa is situated above the blue Caribbean Sea complete with glass floors to view the marine life below. The secluded property consists of miles of white sand beaches and untouched rainforest. After sunset, unwind at the Clubhouse restaurant or spend a night under the stars on your private terrace.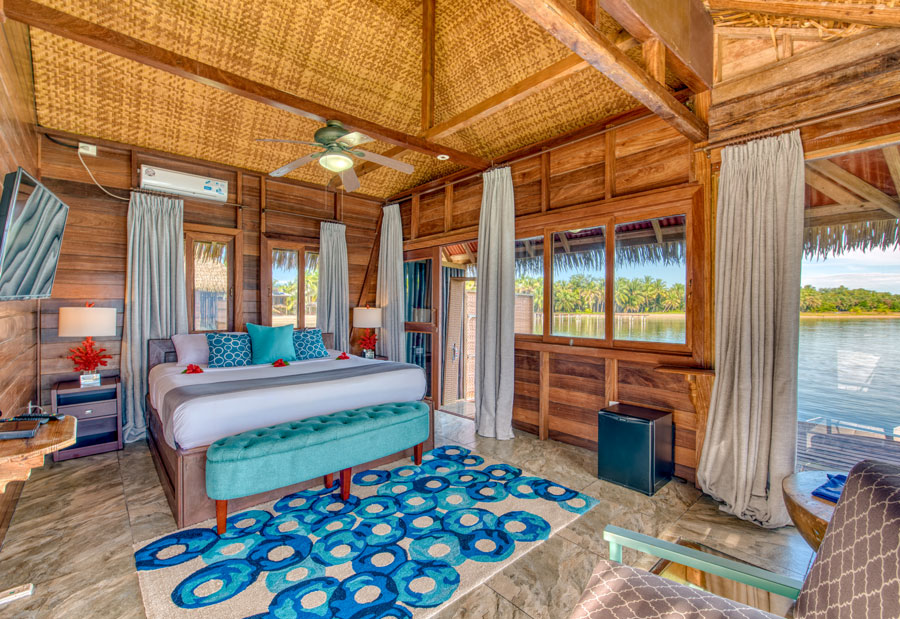 This resort offers complimentary non-motorized water sports like kayaking and stand-up paddle-boarding. Then there are the experiences: let us take you on a dolphin safari or to witness the splendor of our neighboring islands. Visit the untouched Zapatilla Cays, snorkel your way through Coral Cay or hike through a jungle to uncover a sustainable chocolate farm. Visits to the neighboring Salt Creek indigenous village and day trips to secluded beaches are all for the taking.
Azul Paradise Boutique Hotel is the second hotel that connects you to the main island and the nightlife; Isla Colon is known to never sleep. The front entry is right in the epicenter of Bocas' nightlife and activity with all the restaurants and clubs on the main street. The unique over-the-water hotel has rooms with floor-to-ceiling glass walls to take in the breathtaking views of the island and passing boat traffic.
Right from your bed watch the sun put on its magnificent show and enjoy Caribbean-inspired culinary masterpieces. Come nightfall, join the revelers who are lured to Isla Colon for its sheer energy; there's a good chance the earliest rays of sun will beat you home after a night out around Main Street.