Azul Paradise brings you the best of both worlds in Bocas del Toro: Azul Paradise Resort and Azul Paradise Boutique Hotel.
This two boutique hotel group, one on Isla Colon and the other on Isla Bastimentos, are the ideal spot to plan your adventure package in Bocas del Toro.
Azul Paradise Resort, a private beach resort, is a collection of charming over ther water villas where you can disconnect from the world. Each villa is situated above the blue Caribbean Sea complete with glass floors to view the marine life below. The secluded property consists of miles of white sand beaches and untouched rainforest. This resort offers The Tiki Bar and Grill and the Club House Beach Front Restaurant to enjoy the sunset with a delicious cocktail and unique gastronomic proposal.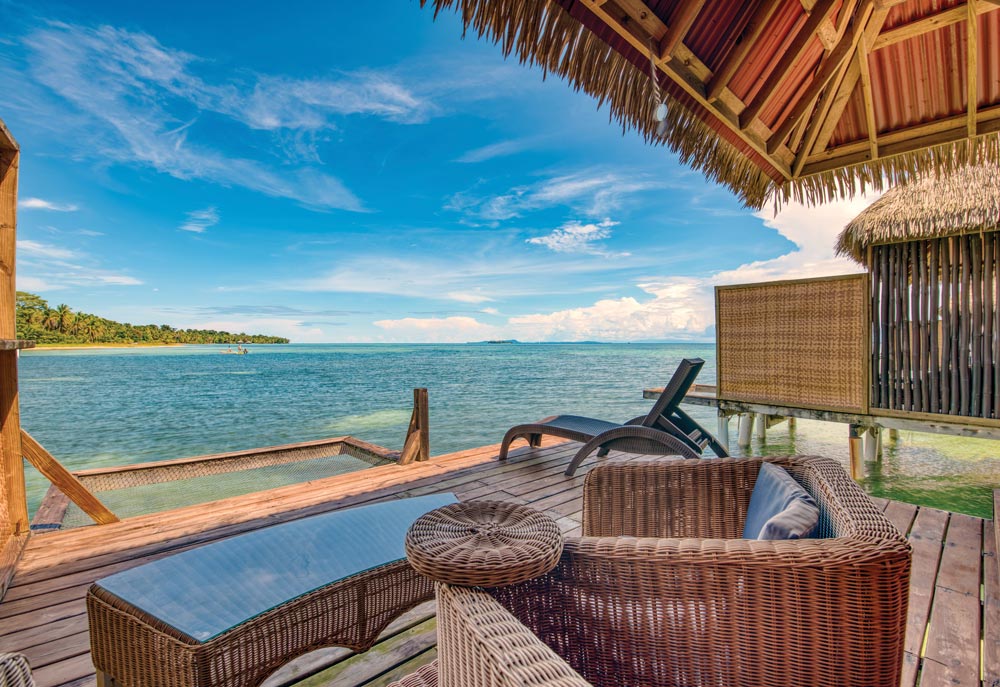 Azul Shala is the new retreat center at Azul Paradise Resort, the perfect getaway to discover your real essence while enjoying the tropical weather of Bocas del Toro. This is the ideal place to organize yoga, group therapy, dance, corporate workshops, couples' retreats, scuba diving, surf retreats, weddings, even family reunions and much more. Here, every detail has been taken into account to create unforgettable moments for everyone.
In a short boat ride is Azul Paradise Boutique Hotel. This hotel connects you to the main island and the nightlife; as Isla Colon is known for it's wild side. The front entry is right in the epicenter of Bocas' nightlife and activities. The unique over-the-water hotel has rooms with floor-to-ceiling glass walls to take in the breathtaking views of the island and passing boat traffic. Here you will find the newest restaurant that offers a completely different dining experience in Bocas .Town.